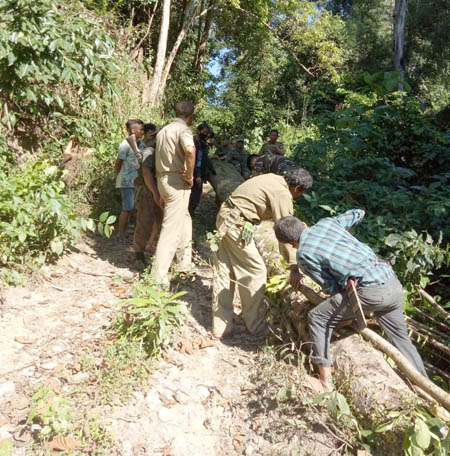 Staff Reporter
ITANAGAR, Apr 16: The National Green Tribunal (NGT) has sought a detailed report from the Bhalukpong (West Kameng) divisional forest officer (DFO) on illegal logging and timber operations in the Papum reserve forest.
The environmental watchdog had earlier heard a public interest litigation (PIL) filed by a Seijosa (Pakke-Kessang)-based environmental activist, Jorjo Tana Tara, on 9 April. It has now sought a report from the Bhalukpong DFO (under whose jurisdiction the reserve forest falls) as well as the Pakke Tiger Reserve DFO within two months.
In his PIL, Tara claimed that systematic, large-scale, illegal timber logging and major deforestation, using mechanized chainsaws, is being carried out within the Papum reserve forest. He also claimed that the deforestation has had a huge impact on the hornbills' nesting in the forest.
In a press conference at Arunachal Press Club here on Tuesday, Tara expressed doubt whether it was wise and fair for the NGT to seek a report from Bhalukpong DFO VK Jawal, under whose jurisdiction illegal logging is allegedly being carried out.
"In order to extract unbiased information and actual report from the ground, the NGT should direct the principal chief conservator of forests (PCCF) to depute an independent officer to inquire into the matter," Tara said.
He demanded that the NGT direct the Bhalukpong DFO to immediately stop logging activities in the reserve forest; initiate inquiry into illegal timber operation; and direct the forest department to restore the lost land to its original state.
Tara said he has also raised the issue with the governor, the chief secretary and the PCCF on several occasions.
"Sadly, I have lost the battle against illegal timber operation to Arunachal's bureaucratic inertia. That's why I had to approach the NGT," Tara said.
He also claimed that there is a threat to his safety after he filed the PIL against the illegal timber operation.
"I cannot name any particular person or organization, but there is a threat to my safety following my petition to the NGT," Tara said, adding that he feared for his life.
Meanwhile, Jawal said he has so far not received any directive from the NGT to submit a report. However, he said he would discuss the issue with his higher-ups.