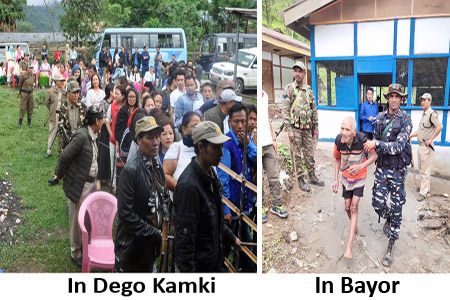 Staff Reporter
ITANAGAR, Apr 20: Fresh polls for the 19 polling stations in 12 assembly constituencies were held across eight districts of the state on Saturday with no reported instances of violence or malfunctioning of the electronic voting machines (EVM).
Providing an update on the re-polls, Additional Chief Electoral Officer Kangki Darang said the polls were held peacefully and without any major hindrances.
"Polling at the Messing polling station under Pangin constituency began a little later than the specified time, but there were no major setbacks. ECIL (Electronics Corporation of India Limited) engineers were also sent to take corrective measures in case EVM malfunction was reported," he said.
The fresh polls witnessed an overall 82.4 percent male and 80.25 percent female elector turnout.
Nachiban polling station under Bomdila constituency in West Kameng district saw the highest elector turnout of 96.94 percent. Of the 229 total enrolled, 222 came to exercise their voting rights for the second time.
With 95 percent and 94.69 percent elector turnout, the Longkhao polling station under the Longding-Pumao constituency and the Longhua village polling station under the Kanubari constituency – both in Longding district – saw the second and third highest elector turnout on 20 April.
Nasi polling station under Dumporijo constituency in Upper Subansiri district with 65.06 percent turnout witnessed the lowest turnout with only 108 out of the total 166 electors participating in the fresh polls.
Pania polling station under the Yachuli constituency in Lower Subansiri district also recorded a low turnout of 66.38 percent.
The remaining polling stations witnessed over 70 percent elector turnout.
Regarding re-polls in Kurung Kumey and Kra Daadi districts, the ACEO informed: "Reports have been sent to the Election Commission of India. We are expecting the approved list from the commission by tomorrow."
Fresh polls were necessitated in the 19 polling stations due to various reasons, including defective or damaged EVMs/ VVPATs, accidents, etc.
At present, the total elector turnout in the state stands at 77.38 percent, and it is likely to increase after the re-polls.