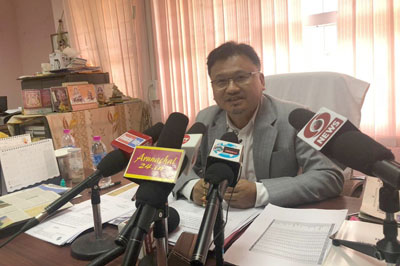 Staff Reporter
ITANAGAR, Apr 22: The chief electoral office here on Monday announced fresh polling at 18 polling stations in Kurung Kumey and Kra Daadi districts.
The re-polls will take place on 27 April.
The announcement came after the weeklong scrutiny and examination of complaints from candidates about booth capturing and poll-related incidents in the two districts.
Addressing journalists, Additional Chief Electoral Officer (ACEO) Kangki Darang informed that the Election Commission of India has approved fresh polls at 18 polling stations in the two districts.
"The fresh polls in respect of the 18 polling stations will take place on Saturday (27 April), between 6 am and 2 pm," the ACEO informed.
"In the Palin assembly constituency in Kra Daadi district, re-poll will take place at six polling stations – Sangram, Joru, Chollo, Restaring, Rakso and Amsukpinja," informed Darang.
However, he clarified that at the Amsukpinja polling station, re-polling will be held only for the assembly constituency and not the parliamentary constituency.
"Three polling stations – Cheki, Pating and Kambang – under the Nyapin assembly constituency will have re-polling for both assembly and parliamentary seats," Darang said.
"Re-polling in Tali constituency will take place at three polling stations – Gimba, Korehapa and Zara," he announced.
In Koloriang, fresh polls will take place at Damin, Taba, Langbang, Nampe, Nikoriang and Pani polling stations, Darang said.
For peaceful conduct of the re-polling, five companies of central paramilitary forces, including the IRBn, are being arranged to be deployed in both the districts.
"Despite sufficient force arrangement, poll-related incidents had occurred. The civil society, public leaders and responsible citizens of Kurung Kumey and Kra Daadi should ponder upon it and ensure peaceful and fair election," Darang said, adding that in Siang district, the commission did not deploy any central armed police force but no poll-related incident occurred in the district.
In order to have free and fair election, the commission is also deploying flying squads that would focus on ensuring that the voters reach the polling stations without any obstruction, the ACEO revealed.
"Two platoons of armed forces will be deployed at each polling station, which will be directly monitored by a DSP, under the supervision of the SP," the ACEO said during the press briefing.
DIG Apur Bitin will be monitoring the security arrangement in Kurung Kumey, and DIG Kime Kaming will supervise Kra Daadi.
"Enough security will be arranged for foot-march polling stations like Taba and Nampe," Darang added.
On 20 April, 19 polling stations in eight districts of the state underwent fresh polls after poll-related incidents were reported at the polling stations there.