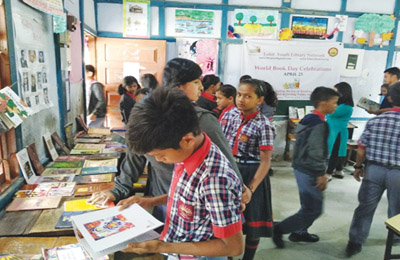 ROING, Apr 23: World Book Day was celebrated in a befitting manner here in Lower Dibang Valley (LDV) district on Tuesday, in a programme organised jointly by Tezu-based Lohit Youth Library Network (LYLN) and the Roing Kendriya Vidyalaya (KV).
Addressing the function, LDV SP Sanjay Kumar Sain urged youths and students to cultivate the habit of reading books.
"Achievers in life have built their future by reading wide and well. Hence, take to extensive reading," Sain advised.
Drawing from his personal experience, the SP advised them to extensively read biographies in order to develop their personalities, instead of confining themselves to just textbooks.
Roing KV Principal Deepak Kumar said the KV would be "glad to organise more programmes in Roing to promote and strengthen the reading habit among the youths."
Stressing the importance of "reading campaign activities," LYLN coordinator S Mundayoor outlined the activities the library network has been conducting over the last 12 years to make good books available to students, teachers and parents who did not have access to such reading materials.
Later, the SP visited the book exhibition stall set up by the LYLN, and declared gifts of books worth Rs 5000 each to the KV and Shemrock primary school here.
Display of a range of books and an exhibition of paintings were the highlights of the function.