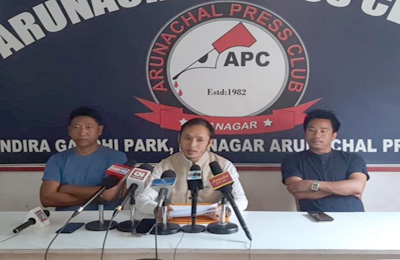 Staff Reporter
ITANAGAR, Apr 25: The Kra Daadi District Youth Congress (KDDYC) has reiterated its demand for re-poll at the Raibalo polling station "as per the statement given by the presiding officer (PO)," and sought an inquiry on the powers exercised by the returning officer (RO) of the Palin assembly constituency and the superintendent of police (SP) of Kra Daadi.
Addressing reporters at the press club here on Thursday, KDDYC president Tarh Johny claimed that the PO of the Raibalo polling station had made a statement regarding violation of norms and directions of the Election Commission of India (ECI) at the Raibalo polling station before the election observer, the district election officer (DEO), the RO, and all the candidates at the DEO's office in Koloriang on 16 April.
The PO had also submitted a letter to the RO on 18 April and reported of unfair voting in Raibalo, including booth capturing by 35-50 voters, when there are a total of 576 voters under the polling station.
However, Johny claimed that despite the negative report of the PO of breakdown of law and order at the Raibalo polling station, the RO and the SP did not initiate any action, and allegedly "manipulated the report submitted to the ECI."
Blaming the Janata Dal (United) for the alleged booth capturing, Johny said the RO, who is also the deputy commissioner, was informed of the situation at the polling station, and that the RO went to the Raibalo polling station "after much hue and cry by about 170 of the voters."
Johny said when the DC and the SP arrived at the polling station, they were received well there, but he (Johny) was stopped and threatened.
"Though the DC and the SP were greeted well by them (JD-U volunteers), I was threatened, shoved and chased in front of the officials, who, after witnessing this, still claimed that the situation was peaceful," Johny alleged.
Regarding re-polling at the Rakso polling station (under the Palin assembly constituency) scheduled for 27 April, the KDDYC cited "large-scale violence and violation of the electoral procedure by the JD (U)," and demanded high security for the safety of the voters in the area.
A voter from Rakso, Biri Tania, also claimed that about 300 JD (U) volunteers blocked the roads with vehicles and manhandled him in an attempt to stop him from exercising his voting right.
"The entire polling station compound was captured by them. They had firearms, machetes and other weapons with them. We appealed to the DC-cum-RO to look into the matter but he reported it as a peaceful election," Tania claimed.
He also said the RO would have to take responsibility if any untoward incident takes place at the Rakso polling station.
"We are still receiving threats. We are being told not to come to vote," Tania added.
This daily tried to contact the DC and the SP for statements but did not receive any response.