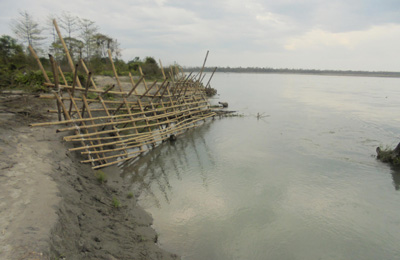 Correspondent
MEBO, Apr 25: The people of Mebo subdivision in East Siang district have started erecting bamboo and wooden spars at the Kongkul and New Borguly portions of the left bank of the Siang river as a precautionary measure against flashfloods.
The riverine villages of Lower Mebo were repeatedly washed away by overflowing Siang river and its tributaries last monsoon. The rivers also eroded several acres of fertile cropland on the left side of the riverbank, rendering 20 families of Kongkul village homeless.
Though the chief minister had during a public meeting prior to the elections announced to provide Rs 35 crore for flood control and anti-erosion schemes in the area, the fund has not yet been sanctioned due to the enforcement of the model code of conduct.
The anxious villagers have therefore resorted to taking up flood control measures voluntarily, in order to divert the river's course at Kongkul and New Borguly.
Earlier, East Siang DC Kinny Singh along with officials of the district disaster management authority and engineers from the water resources department visited the flood prone areas and other vulnerable sites of Mebo subdivision and took stock of the situation.
Commending the people's initiative, the DC assured them of all possible cooperation from the administration.
Retired IAF group captain Mohonto Panging, who is a native of Mebo, is spearheading the flood control and anti-erosion activities initiated by the villagers.