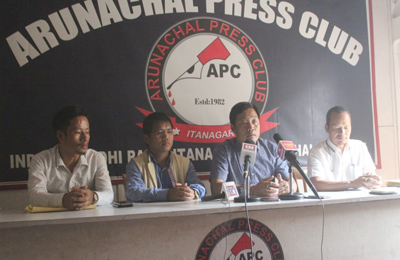 Staff Reporter
ITANAGAR Apr 26: Claiming that booth capturing occurred at the Soki polling station under the Daporijo assembly constituency in Upper Subansiri district, former Daporijo MLA and Janata Dal (United) candidate Dikto Yekar has demanded re-polling at the polling station.
Addressing media persons at Arunachal Press Club here on Friday, Yekar claimed that BJP supporters had captured the polling station and did not allow 17 voters of the JD (U) to cast their votes after intimidating them.
"The BJP supporters cast proxy votes in the name of five dead persons who were on the electoral roll," Yekar said.
He also claimed that BJP supporters physically assaulted a female voter during the voting on 11 April.
"They also did not allow the polling agents of the JD (U) and the Congress party to sit inside the polling station," Yekar said.
Demanding scrutiny and examination of the polling procedure at the Soki polling station, Yekar said that out of the 323 total votes, 321 had been cast, including 14 postal votes, which is 99.38 percent of the total electorate.
"This is indicating that there was booth capturing at the Soki polling station," he said.
The election agents of the JD (U) and voters who had not been allowed to cast their votes have submitted a representation to the returning officer-cum-district election officer, alleging infringement on their adult franchise at the Soki polling station on 11 April.
"The deprived voters also staged a dharna in front of the deputy commissioner's office in Daporijo," Yekar said.