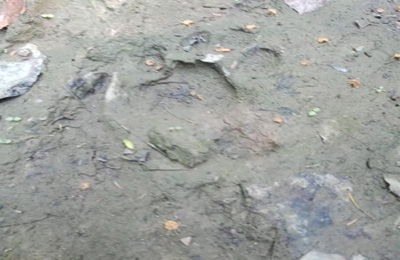 [ Prafulla Kaman ]
PASIGHAT, Apr 27: The forest officials of Jonai, Assam, have claimed to have spotted the pugmarks of an adult Royal Bengal tiger for the second time in the Poba reserved forest (RF) near here in East Siang district.
They said they spotted the pugmarks during routine patrolling in the Sirung portion of the reserved forest recently.
Poba RF is located on the outskirt of Pasighat town, and is adjacent to the Daying Ering Wildlife Sanctuary.
Earlier, in November 2017, the forest officials of Jonai had spotted similar pugmarks in the same portion of the reserved forest. The forest officials said although big cat species like leopards, leopard cats and jungle cats are found in the RF, the Royal Bengal tiger is usually not found anywhere in the forests of the region.
There is also an elephant corridor extending from the Poba RF to the Dibru Saikhuwa National Park across the Brahma-putra in upper Assam.
Stretching along both sides of NH 15, the upper portion of the Poba RF falls under the Pasighat forest division in Arunachal Pradesh and the remaining, larger, portion falls under the Dhemaji forest division in Assam.
Various NGOs, student organizations and wildlife lovers have been demanding that the authorities declare the reserved forest a wildlife sanctuary in order to save the wildlife of the region.