Five students out of 101 pass in Seppa
[ Amar Sangno ]
ITANAGAR, May 6: The government-run schools of Arunachal Pradesh have once again registered a crashing performance in the All India Senior Secondary Certificate Examination (AISSCE), with a dismal percentage of 41.79 this year.
The state has slipped three points below last year's record of 44.33 percent, and two points below the 2017 record of 43.44 percent.
The Bazaar Line government higher secondary school (GHSS) in East Kameng HQ Seppa recorded the lowest pass percentage of 4.95. Only five students out of 101 who appeared for the exam passed. Twelve students got compartment and 84 failed.
The GHSS in Jeko in Lohit district registered the second lowest pass percentage with 15.63. Thirty-two students appeared and only five cleared the exam. Eight students got compartment and 19 failed.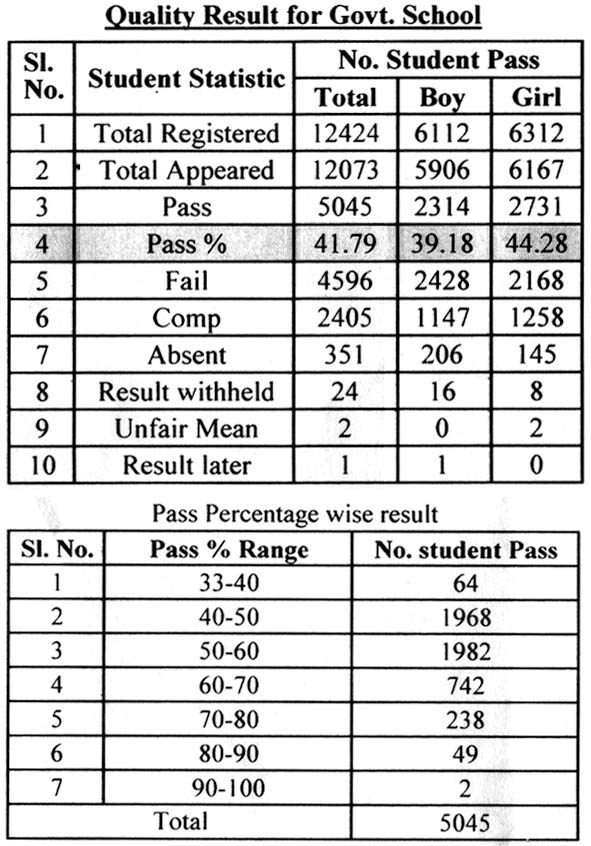 On the contrary, newly-created Shi-Yomi district has topped the chart of the best performing districts with the GHSS in Mechuka registering the highest pass percentage with 93.55. The GHSS in Chowkham in Namsai district is in top second with 89.71 percent, and the GHSS in Lumla in Tawang district, with 87.50 percent, is third on the table.
Speaking to The Arunachal Times, School Education Director Gania Leij attributed the poor performance of the government schools in the current CBSE results to lack of subject teachers in various secondary and higher secondary schools.
"There are many schools which have no subject teachers, especially mathematics and science teachers," said Leij.
Reportedly, in order to meet the shortage of subject teachers across the state, the government recently sanctioned 540 posts of trained graduate teachers and 126 posts of postgraduate teachers, and has endorsed them to the Arunachal Pradesh Public Service Commission for the recruitment process.
Leij blamed the lack of institutional administration in the government schools across the state as another factor for the abysmal results.
"Unlike in the past, these days the students do not fear teachers at all, and the teachers-students relationship has gone down horribly. In such an atmosphere, the teachers have no control over the students, leading to unfavourable atmosphere for studies," he said.
The director also blamed the role of parents, stating that parents whose children are in government schools hardly bother whether their wards are studying well or not.
Earlier this year, the education department had introduced pre-board screening tests to filter out the students before the CBSE exam. The government schools were empowered to conduct the pre-board tests independently.
The school education director revealed that only 9,360 students could clear the pre-board tests, out of the 12,225 students who had registered.
"If just the pre-board tests qualified students had been allowed to appear for the CBSE exam, the pass percentage would have been different," Leij said.
The state government had to roll back the decision to hold pre-board examinations in the schools after it created uproar across the state.