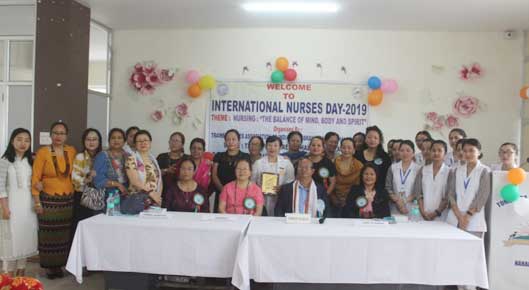 'Our hospitals are run not by doctors but by nurses'
NAHARLAGUN, May 12: The state branch of the Trained Nurses' Association of India (TNAI) celebrated International Nurses Day at the Tomo Riba Institute of Health & Medical Sciences (TRIHMS) here on Sunday.
The day marks the birth anniversary of Florence Nightingale, who is known as the founder of modern nursing. The event is organized annually by the nurses around the world, and the theme of this year is 'Nursing the balance of mind, body and spirit'.
The nurses of the TRIHMS paid homage to Nightingale.
"Our hospitals are run not by doctors but by nurses," said TRIHMS Medical Education Director (Training & Research) Dr RD Khrimey as he underlined the importance of the roles of nurses.
Admitting to shortage of nurses at the institute, he expressed appreciation for the efforts of the nurses of the TRIHMS, and encouraged young nurses to be good listeners while dealing with patients.
Informing about vacant posts of nursing tutors at the nursing school, Dr Khrimey said request has been placed with the government to appoint some nurses from within the department who have been working for a long time, and to conduct open interviews for the rest of the posts.
As per the government order, the vacant posts are to be filled through open interviews.
Nursing Deputy Director Kijum Karga spoke on placement, nature of duty, etc, of ANMs to strengthen the health system. She also underscored the need to streamline the nursing service and nursing education, saying the two must go together.
Taking a strong stand against inauthentic and invalid nursing licence, she said nurses practicing without valid licences will be issued show cause notices.
She also requested the department concerned to appoint an assistant deputy director of nursing education, and informed that the proposal for establishing a separate nursing director has been submitted to the government of India.
Calling for team work, she urged the state TNAI team to work collaboratively.
Among others, Health & Wellness Officer Mary Tayum, state TNAI finance secretary Tage Ampi, state TNAI president KT Yasung and general secretary Techi Mepung addressed the function.
The occasion was marked with distribution of fruits to patients.