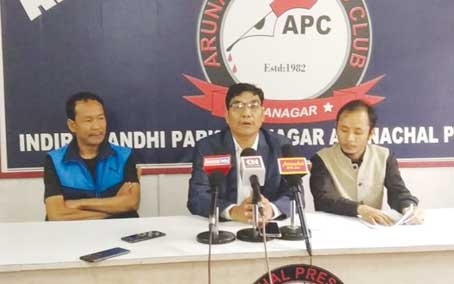 Staff Reporter
ITANAGAR, May 12: The Congress candidate for the Palin assembly constituency in Kra Daadi district, Takam Pario, on Sunday denied the allegation levelled by JD (U) candidate Byabang Taj that Pario had obstructed the polling process in Palin by using lethal weapons and cash.
"Everyone in the state knows my character, that I wouldn't do such a thing; so, accusing me with such false allegation is totally wrong. I condemn the allegation in the strongest terms," said Pario, addressing media persons at Arunachal Press Club here.
He said the allegation was aimed at tarnishing his image.
"I never saw such poll-related violence, like the JD (U) workers did this year, in three terms of my political career in Palin," Pario said. "The JD (U) involved small youths, like 15-year-olds, in obstructing polling. It was beyond my expectation," said he, accusing the JD (U), instead, of obstructing peaceful polling.
"No one can question me about development issue. I have done enough. However, I never saw such violent election like this year, where senior citizens were physically assaulted," Pario said.
Claiming that genuine voters were not allowed to vote at the Rakso polling station, the Congress candidate said, "All polling officers, the sector magistrate and the district election officer (DEO) were aware that the real voters were not allowed to vote at the Rakso polling station. Instead, bogus voters from all polling stations had voted."
"As per the constitutional provisions, genuine voters should be given the right to vote and the authority should look into their genuine demand," he added.
"At the Rakso polling station, my vehicle was ambushed, and I was attacked by masked youths. Genuine voters were obstructed from going to the polling station. This all happened in front of the police officers and the polling officers on duty," he claimed.
Pario claimed that the DEO and the AERO acted on behalf of the opposition with the intention of dislodging him from the political race.
He also demanded immediate suspension of the returning officer (RO) "for favouring the other party and giving wrong reports on the poll-related incident."
Pario claimed that the administration was one-sided and the eruption of violence was due to "the inefficiency of the district administration."
He said although booth capturing occurred at the Reibalo polling station also, "the returning officer ignored it and favoured the BJP in his report, and created problems."
He went on to claim that all poll-related incidents of violence in Palin had been invited by the RO and the presiding officers "by favouring a particular party."
"Whatever violence is happening in my constituency, it is because of the returning officer's partiality to a particular party, and the administration's weakness to handle the situation.
There should be a thorough investigation and the RO should be suspended immediately," said Pario.
He demanded fresh polls at the Rakso and Reibalo polling stations, claiming that booth capturing had taken place in the two areas.