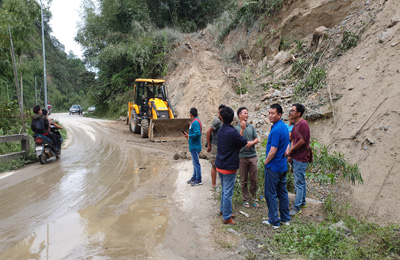 NAHARLAGUN, May 13: Naharlagun EAC Rinchin Leta on Monday inspected the road from Papu Nallah to Pagatara, on the Naharlagun-Itanagar road, via Jully, along with PWD officials and locals.
The inspection was carried out following a direction from the capital complex DC
in connection with the closure of NH 415 between Itanagar and Naharlagun and immediate repairing of the road near Pagatara.
Leta informed that he would submit the inspection report shortly.
"An illegal earth-cutting activity along the road was stopped, and legal action has been initiated by the administration," the EAC said.
He urged the residents of the capital to cooperate with the administration and stop damaging public properties like roads.
"Repairing and maintenance work have already been started at the Pagatara sinking zone, and we hope it will be completed within a week. Also, direction has been issued for filling up the potholes," Leta said.