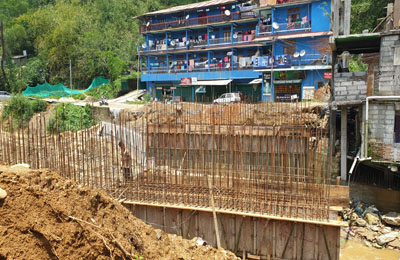 Staff reporter
ITANAGAR, May 13: Capital Complex Deputy Commissioner Himanshu Gupta on Monday informed that he has directed the PWD's capital divisions A and B to start construction of the bridge in Division IV and the culvert in ESS Sector on a war footing.
Interacting with media persons, Gupta expressed concern over the constant traffic jam in the capital complex.
"The bridge in Division IV, which will connect Senki Park and Division IV with F and G Sectors and Ganga Market, is very important to ease the traffic. Necessary instructions have been issued, and if everything goes as per plan, the bridge should be ready within the next three months," the DC said.
The construction of the culvert in ESS Sector, which connects Bank Tinali and Ganga Market via the Hotel Donyi Polo, the DDK, ESS Sector and the SP office, is also being taken up on priority, Gupta said.
"We had a meeting recently at the office of the chief secretary, where the matter was discussed and the CS took this issue very seriously. As per the direction issued by the CS, I recently visited the sites, and work will start soon," he said.
The DC also cited various reasons for the increase in the traffic volume in the capital region.
"Traffic problems are increasing not only due to the bad road but also due to the increase in the number of vehicles, encroachment on the right of way on the highway and the sector and arterial roads, haphazard parking, etc," he said.
Gupta said that, despite limited manpower, the traffic police have been making efforts to regulate the traffic in the capital complex.
He appealed to the people to obey the traffic rules and properly park their vehicles, so that the traffic is not affected.