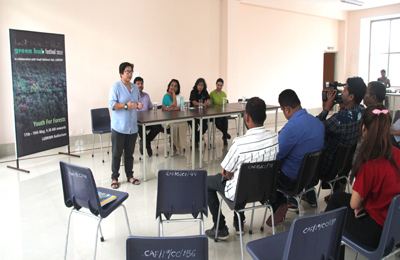 TEZPUR, May 14: The annual Green Hub Festival will be held at the Lokopriya Gopinath Bordoloi Regional Institute of Mental Health (LGBRIMH) auditorium here in Assam from 17-19 May.
The theme for this year's festival is 'Youth for forests'.
Being organized in collaboration with LGBRIMH, the event aims to generate public awareness on the importance of environmental conservation, and discuss and debate various critical issues related to social change in Northeast India.
It also aims to build a network among various stakeholders and the youths of the region to explore opportunities and avenues for new initiatives.
During the three-day day event, films on forests and wildlife conservation by renowned filmmakers will be screened, besides presentation on similar issues by experts, organizations, filmmakers and representatives of local communities.
The Green Hub's forest project, as well as its existing and ongoing activities, will also be highlighted.
This year, the festival will bring together a rich pool of renowned environmentalists, filmmakers, musicians, artists and media persons.
Filmmaker, author and environmentalist Pradip Krishen, the founder head of the Wildlife Genetics Division and Media Production & Communications Division of Aaranyak, Udayan Borthakur, and leading conservation biologist Nandini Velho, who has been working in the Pakke Tiger Reserve and the Eaglenest Wildlife Sanctuary for more than 13 years, are expected to attend the festival.
Leading entomologists from the Ashoka Trust for Research in Ecology and the Environment are also expected to attend the festival.