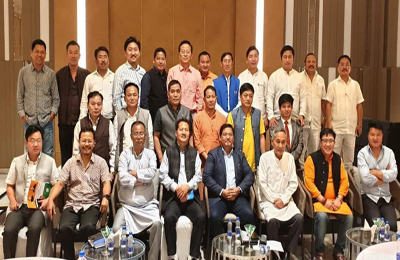 Coordination meeting held
GUWAHATI, May 15: Deputy Chief Minister of Manipur Joykumar Singh who is also the National Vice-President of National People's Party (NPP) advised the party candidates of Arunachal not to leave the party after election result is declared.
He has called for strengthening the party organization in the state and assured his full support.
Singh said this during a coordination meeting of the NPP which was held here on Tuesday.
Chief Minister of Meghalaya cum national president of NPP Conrad K Sangma appreciated the NPP MLA candidates for strongly fighting the election and hopef for landmark victory of the party.
He directed the state President to re-organize district, state office-bearer and frontal heads of State NPP immediately.
Arunachal state NPP President Gicho Kabak highlighted the number of seats party is expecting to win in the assembly election.
All the NPP candidates including former Home Minister Kumar Waii highlighted how they faced difficulties during the election campaign in their respective assembly constituencies and suggested for strengthening of party organization in the state.