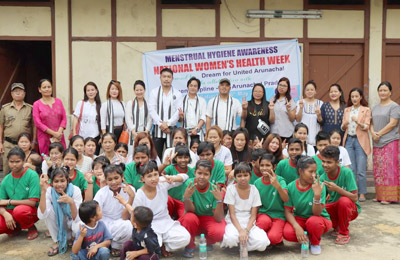 NAHARLAGUN, May 18: Members of Itanagar-based NGO Dream United Arunachal (DUA) celebrated National Women's Health Week here on Saturday, in collaboration with the Oju Welfare Association (OWA) and the Women Helpline 181, by organising an awareness programme on menstrual hygiene at the OWA.
The DUA team, led by its convenor Passang Dingla, interacted with the children, workers and members of the OWA, and endorsed the importance of menstrual hygiene among girls.
Stressing on the significance of hygiene in health education, especially for women, Dingla said
cleanliness and healthy surroundings depend on hygienic practices, and urged womenfolk to be aware of hygiene.
The All Arunachal Pradesh Students' Union's women wing general secretary Kipa Yanu and fashion designer Gona Niji also joined the programme in creating awareness.
More than 800 million women and girls between the ages of 15 and 49 are menstruating worldwide, and yet menstrual health and hygiene remain a neglected health issue.