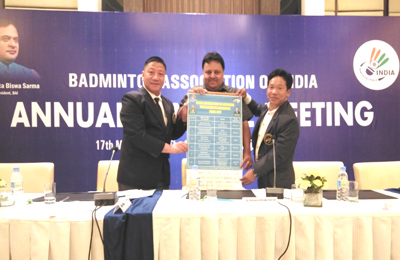 ITANAGAR, May 19: The annual event calendar of the Arunachal State Badminton Association (ASBA) was released by Badminton Association of India (BAI) general secretary Ajay Kumar Singhania during the annual general body meeting of the BAI in New Delhi on Friday.
The BAI's EC member, Bamang Tago, who also is the ASBA secretary, attended the meeting and highlighted the challenges faced by the badminton players of his state.
Tago later said BAI president Himanta Biswa Sarma and secretary Singhania both appreciated the efforts made by the ASBA for promotion and development of badminton in Arunachal, "despite challenges."
The ASBA secretary sought help and support from the parent organization for all-round development of the sport in Arunachal.
Meanwhile, the BAI continues with its one-time annual grant of Rs 5 lakhs provided to each state member association for undertaking developmental activities.
The meeting also approved the enhancement of grants provided to conduct the sub-junior national (U-13) championship to Rs 20 lakhs (from Rs 15 lakhs), the sub-junior national (U-15 & -17) championship to Rs 40 lakhs (from Rs 20 lakhs), and the senior nationals championships to Rs 75 lakhs (from Rs 50 lakhs), Tago informed.
It will provide Rs 10 lakhs for conducting interstate zonal championships, the ASBA secretary said.