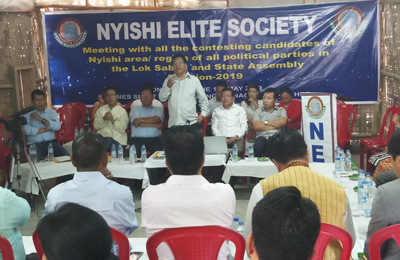 ITANAGAR, May 19: With the ECI's announcement of re-polling in Nampe in Koloriang assembly constituency and Gimba in Tali assembly constituency on 21 May, the Nyishi Elite Society (NES) in a meeting with the contesting candidates of the ongoing elections on Sunday adopted various resolutions to preempt any scope of post-poll violence and loss of lives and properties in the 14 assembly constituencies inhabited by the Nyishi community, with special emphasis on the Nyishi heartland – the capital complex.
The meeting, which was held with the prime agenda of establishing confidence-building measures and averting any sort of post-poll violence in the Nyishi inhabited areas, adopted resolutions stating that "all the contesting candidates shall be responsible for maintaining post-poll peace and tranquility in their respective constituencies. The NES shall explore formation of an appropriate peace monitoring committee, as and when the situation demands, for each zone/constituency, involving the candidates/representatives, and anyone found to be indulging in post-poll related violence shall be fixed personal responsibility and sternly dealt at the social fora in addition to lawful action."
Earlier, the top rung of the NES had held marathon discussions with the chief electoral officer and his team on 1 May, and with the chief secretary and top cops on 8 May. Then there was an interaction between the senior executive members of the NES with some of the contesting candidates on 15 May.