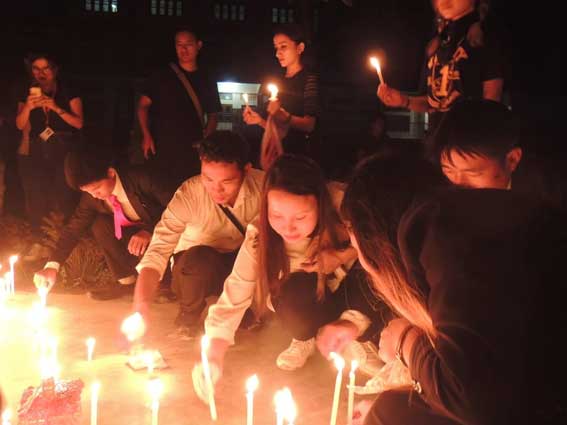 ITANAGAR, May 27: Students & Faculty Members of the Arunachal Law Academy on Monday evening organized a candlelight march to express solidarity with the bereaved families of MLA Tirong Aboh and 10 others who were killed by suspected NSCN militants on 21 May near Khonsa in Tirap district.
The marchers started from Bage Tinali and proceeded to the Arunachal Law Academy campus in Lekhi, where they held a condolence meeting.
The participants observed two minutes' silence to mourn the deaths, and prayed for eternal peace of the departed souls.
Condemning the dastardly act, the mourners demanded justice for all those killed in the incident.
Meanwhile, a candlelight march is being organized here on 28 March, this time by the Arunachal Civil Society, to condemn the killing of Aboh and the others.
The march is being organised in collaboration with the Itanagar unit of the All Tirap, Changlang, Namsai and Longding Students' Union, the Rajiv Gandhi University Students' Union, the Students' Union of NERIST, the Dera Natung Government College Students' Union, and the Himalayan University Students' Union.
The participants will march from Akashdeep complex to the IG Park tennis court here at 4 pm.