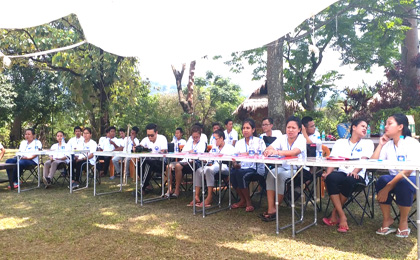 [ Indrajit Tingwa ]
Miao, May 29: The first ever Monsoon Adventure Awareness Camp is underway at Miao. The five day camp starting 29 May will conclude on 2 June. It is being organized by the Miaopum Tours and Travels in collaboration with the Changlang district administration and the department of youth affairs and sports, government of Arunachal Pradesh. The camp is being held at the Jungle Camp, Miao, a resort on the banks of the Nao-Dihing river.
The course of the camp will cover land, water and air adventures besides equipments display, physical trainings and breathing exercises.
During the inaugural ceremony Ramesh Linggi, Joint Director, Youth Affairs and Sports exhorted the participants to learn valuable lessons on adventure from expert resource persons. He assured to extend help to those intending to take up adventure sports professionally.
Everesters Taka Tamut and Kishon Tekseng also spoke during the ceremony, river guides Anand Tekseng , Ogung Tamut and Iho Mitapo will act as the expert resource persons for the five-day camp.
Tour Operators Phupla Singpho of Namdapha Tours and Treks, Neharika Sahgel Umbrey of A1 Travels and Togom Riba of Gibbon Travels are also participating in the camp.
CMD of Miaopum Tours and Travels Bella Tikhak Namchoom informed that on 31 May, participants will trek at the Namdapha National Park and the next day will raft down the Nao-Dihing river from Deban to Miao.
She further informed that a total of twenty five participants from Namsai and Changlang districts are partaking in the camp.