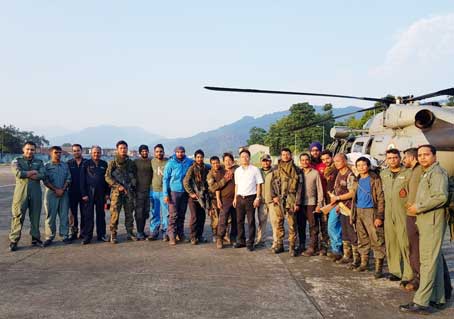 AALO, Jun 29: The Indian Air Force (IAF) on Saturday airlifted the 15-member recovery team from the site where the IAF's An-32 aircraft had crashed on 3 June, killing all 13 persons on board.
The recovery team had been air-dropped at the site of the wreckage on 12 June.
The recovery team included eight IAF and four Indian Army personnel, and three civilians. They landed at the helipad here in West Siang district at 5 pm.
Two advanced light helicopters and a Mi-17 helicopter were pressed into service to airlift the team. They could not be airlifted until Saturday afternoon due to harsh weather condition, and had remained stranded for 17 days at the crash site, 12,800 ft above sea level.
All of them are reportedly to be in good health. However, precautionary medical screening is being done.
The operation to airlift the recovery team was led by senior air staff officer of the IAF's eastern command, Air Marshal Sandeep Singh.
Meanwhile, the Siang DIPRO said five civilians, including the Everester duo of Taka Tamut and K Tekseng, had been deployed at the crash site by the Siang district administration and not by the Shi Yomi district authority, as had been reported by the West Siang DIPRO.
The Siang DIPRO said that, after the wreckage had been found, four of the team members were flown back. However, Tamut, who had been a part of the mission since 11 June, stayed back. Later, he was joined by two men deputed from Shi Yomi district, the Siang DIPRO said.