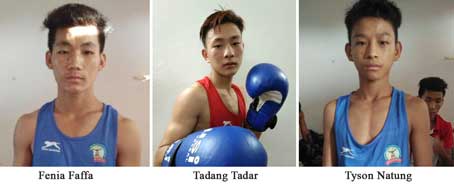 ITANAGAR, Jul 4: Three young boxers from Arunachal Pradesh entered the quarterfinals of the National Sub-Junior Boxing Championship at Rohtak in Haryana.
They are Tadang Tadar, Fenia Faffa and Tyson Natung.
While Tadar won his bout against Meghalaya's IA Rapborsingh Kharbani via split decision (3-2), Faffa was declared winner against Pradesh Pushkar of Himachal Pradesh on RSC (Referee Stopped Match) in the very first round.
Natung won against Bihar's Rohit Kumar via split decision (4-1).
Ito Ado and Kino Ramling lost in the second round on Thursday.