ITANAGAR, Jul 6: The Rotavirus vaccine (RV) was launched at the general hospital here on Friday by former minister and advisor ATWDS, Doi Ado amidst the presence of medical officers and general public.
Addressing the gathering, Ado appealed to all parents to get their child vaccinated against Rotavirus at the earliest as the disease is the main cause of death amongst infants in India.
DMO, Dr Moli Riba, DFWO Dr Tomar Kamki and DPO Yomto Lollen in their separate addresses informed the gathering that the vaccines are being administered free-of-cost to children and appealed all parents to avail the facility.
The DMO further appealed to the doctors to ensure punctuality and to focus on swift health delivery system.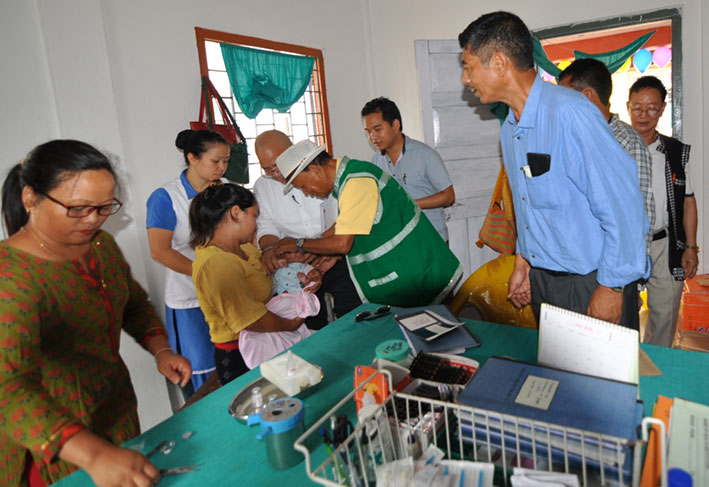 In Changlang, Deputy Commissioner RK Sharma launched the RV during a function organized by the district health society at the district hospital here on Saturday.
Informing about the availability of RV drops in all the health facilities in the district for free, Sharma urged all the parents to get their children vaccinated and further asked the DMO and DRCHO to mobilise ASHAs and AWWs for widespread publicity among the needy to ensure that no eligible beneficiary is missed out.
Speaking about various causes of diarrhoea and other water-borne diseases among children, Sharma emphasized for regular practice of hand washing and drinking boiled water.
He also advised all to keep rivers in the district clean and avoid contaminating them by using chemicals or any other substances that cause water borne diseases and ecological imbalance.
DMO Dr CL Manchey, DRCHO, Dr J Ado and Medical Superintendent Dr H Tangjang also spoke on the occasion.
In Doimukh, the health department launched the state wide vaccination drive for Rotavirus under the National Health Mission from the Doimukh community health centre here on Saturday.
Minister of Health and Family Welfare, Alo Libang, who inaugurated the drive on the occasion, appealed to all the parents to take their wards to the nearest health centres for routine immunization.
Stating that the government has taken a step towards reducing infant mortality rate in the state, the minister called for coordinated efforts from all the stakeholders.
State Immunization Officer Dr D Padung in his address informed that the vaccine will be provided free-of-cost in all government health facilities like hospitals, medical colleges, urban dispensaries, public health centres, community health centres, sub centres and outreach sites (RI/VHND sessions).
Informing that the vaccine is used to prevent contamination of rotavirus vaccine, Dr Padung said the virus is highly contagious and spreads through the faecal oral route.
He also informed that five drops of rota virus vaccine will be administered to infants at 6, 10 and 14 weeks along with other vaccines.
Director Health Services Dr Emi Rumi was also present on the occasion. (DIPROs)