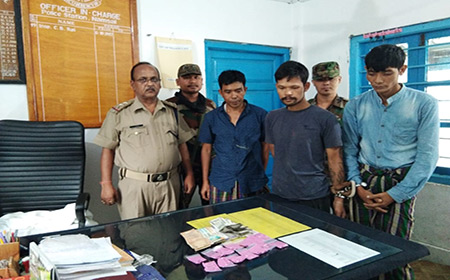 NAMSAI, Jul 10: The Namsai unit police arrested three persons, namely Chow Engkhun Pomong, Chow Watana Monhut and Chow Chantakung Lohan on Wednesday for their alleged involvement in drug dealing.
A police team led by Inspector CB Rai arrested the trio from the house of Pomong and seized 14 packets containing pink coloured powder, weighing approximately 72.25 grams, mobile handsets and cash amounting to Rs 40,000.
A case has been registered in the Namsai police station under section 21(b)/25/27/29 of the Narcotic Drugs and Psychotropic Substances Act.
Head constable CS Mehra, Ct S Sumiyan, Ct K Ram and CT N Gamlin were part of the police team.