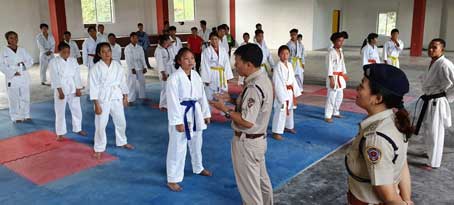 ITANAGAR, Jul 18: Officers of the capital police, led by SP Tumme Amo, interacted with students of the government secondary schools (GSS) in Ganga and Chimpu on Thursday.
Amo, along with DSP (HQ) MB Kamdak, Itanagar SDPO Dekio Gumja, Naharlagun SDPO Rike Kamsi and Itanagar Women PS OC P Taku, visited the GSS in Ganga and launched the government sponsored programme, 'Student police cadets'.
The team interacted with the teachers and students on various topics, such as safety and security, the POCSO Act, social evils like drug abuse, and the importance of discipline and hard work.
In the evening, the SP and the DSP visited the GSS in Chimpu and interacted with the headmaster and students of various schools learning Karate there under a government programme especially designed for girl students of upper primary schools.