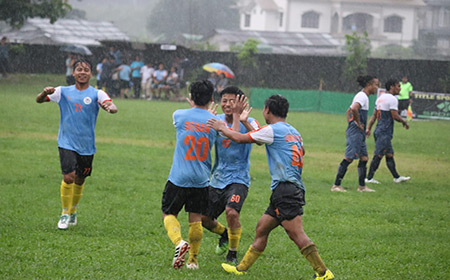 NESA play Mallo Tatum in the first quarterfinal today
ITANAGAR, Jul 20: The quarterfinals lineup for the Jollang Super 16 Football Championship is complete, and the knock-out rounds are scheduled to be played from Sunday.
While Nyishi Ethnic Students' of Arunachal (NESA) will play against Mallo Tatum FC in the first quarterfinal, united Doimukh will meet Champion FC in the second quarterfinal at the Don Bosco School playground in Jollang on Sunday.
The other quarterfinalists are Abu Tadar, Riang United, Chimpu FC and Puwak XI.
On Saturday, Riang United came from behind to beat United Doimukh 2-1 in a do-or-die match.
Tame Kyokam of United Doimukh put his team ahead, scoring in the 40th minute, which was equalized by Riang United in the 56th minute with a goal from Pungte Lapung. The winner for Riang United was scored by Omak Tawe in the 78th minute.
United Doimukh, being the pool topper, entered the last eight, along with Riang United.
In another match, Kampung Kamyer defeated Lokam Brothers by 7-5. However, both the teams are out of the race.