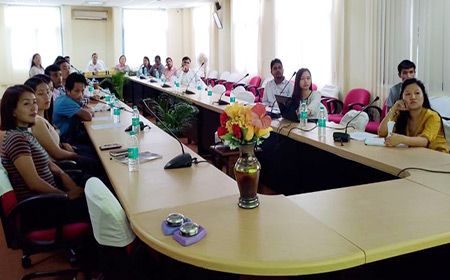 PASIGHAT, Jul 21: The first review meeting of the RKVY-RAFTAAR Agri-Business Incubator (R-ABI) was organized at the College of Horticulture & Forestry (CHF) here in East Siang district on Saturday.
The meeting, which was chaired by CHF Dean Dr BN Hazarika and was attended by R-ABI CEO Dr AS Mailappa, domain coordinating co-principal investigators (PI), a business team, and incubatees, reviewed the progress of the activities under various domains of the CHF R-ABI.
Dr Hazarika highlighted the significance of innovation in agri-business, while Dr Mailappa spoke on the overall progress of activities and the interest of the government in creating employment opportunities through agri-business incubators. He also highlighted the eligibility for starting firms, corporations or businesses, and the step-wise procedure for registering a company.
The co-PIs enumerated the progress of activities under their domains, and the incubatees attached with various domains shared their learning experiences.
CHF R-ABI Business Manager Ninna Lego threw light on "the progress of the activities related to business aspects."
The business team members coordinated the interactive session of the programme.