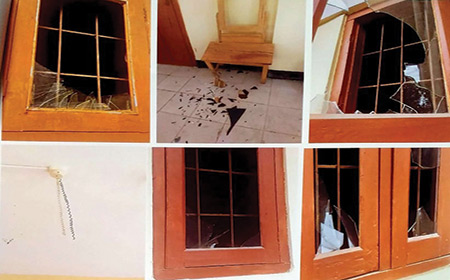 KAYING, Jul 31: In a bizarre incident, miscreants robbed and damaged several items of the Kaying tourist lodge under Siang district.
After assessment, it was found that property worth around Rs 10 lakhs have either been damaged or robbed.
The locals reportedly alerted district tourism officer (DTO) TK Kopak after which he lodged an FIR. The date of occurrence has not been ascertained yet.
In the FIR, DTO TK Kopak has in detail, mentioned about various items stolen and damaged by the unknown miscreants.
"Missing items include 51 chairs, 42 wooden tea tables, 29 mattresses, 41 bed sheets, 32 pillows with covers, 30 blankets, 28 towels, 50 window curtains, 1 reception table, 3 bevelled edge mirrors, steel water filter (10 litre), 1 set cooking utensil, 39 door curtains, 17 plastic buckets, 7 ceiling fans," the FIR read.
The damaged items are, "1 set sofa, 46 building windows and the main gate lock."
As per sources, last time an event was organized in the tourist lodge way back in the month of April when a lunch party was hosted for government staff of Kaying town by then minister Tamiyo Taga.
The waste materials of lunch party were not properly cleaned and were still found when the Tourism department officials visited the lodge.
Meanwhile, the DTO, in his report to the director of Tourism has informed in detail about problems plaguing the functioning of Kaying tourist lodge.
"As per official records, leasing out of Kaying tourist lodge was delayed for more than one and a half year after taking over from the executing agency. Also, several letters were written for appointment or posting of caretaker but there was no response from the directorate office. Further, on my request, the EAC of Kaying deputed two ALCs from his office to stay at the Kaying tourist lodge and they took care of the property for more than a year. Later, they also surrendered and locked all the doors and main gate and left the tourist lodge at the mercy of God," the DTO wrote.