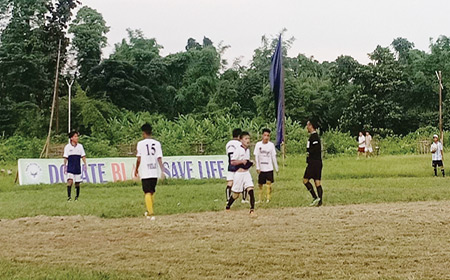 CHIMPU, Aug 10: Bomni Tayeng scored a hat-trick of goals as Pirbo Liipiik FC trounced Doying Bote FC 6-0 in the Itanagar Solung Football Championship at the APBn ground here on Saturday.
Ojing Yirang opened the floodgate, scoring in the 16th minute, and Arun Taying doubled the lead in the 36th minute. Thereafter, Tayeng netted two goals within 10 minute's interval in the 46th and the 56th minutes and scored his third and the team's fifth goal in the 61st minute.
Olik Tayeng also contributed a goal to Pirbo Liipiik FC's total score in the last minute.
In another match played in the afternoon, Siang United FC registered an easy 6-1 win over Solung Committee. Tied 1-1 at first half, Solung Committee collapsed in the second half and conceded as many as five goals in that half alone.
Earlier, in the morning, Abor Warriors FC stunned Naharlagun Solung FC 2-1 to earn full points.
Naharlagun Solung FC dominated the match with 70:30 ball possession. But it was the Abor Warriors who took the lead in the 23rd minute with a goal from Gelat Jiji.
Naharlagun Solung FC equalized in the 10th minute of the second half. Dangki Lego again gave Abor Warriors the lead, scoring just two minutes later (2-1).
Naharlagun Solung FC, in desperate search for an equalizer, came out all guns blazing in the last 30 minutes. In the process, captain Okit Palling fired two fierce shots, but only to hit the goal-bar on each occasion. The Warriors were able to maintain the lead till the end.