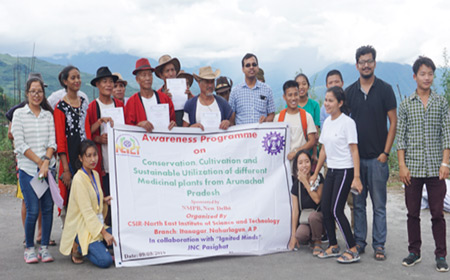 MARIYANG, Aug 11: About 25 people, including beneficiaries, farmers and local healers, participated in an awareness programme on 'conservation, cultivation, sustainable utilization and medicinal plant' organized here in Upper Siang district by the Itanagar branch of the CSIR-North East Institute of Science & Technology (NEIST) on Sunday.
Addressing the programme, which was conducted in collaboration with Ignited Minds, JNC, Pasighat, JNC assistant professor Dr T Payum apprised the participants of the social activities undertaken by Ignited Minds for the benefit of the people of the state.
Itanagar CSIR-NEIST's principal scientist, Dr Chandan Tamuly, delivered a talk on the 'Importance of the Zanthroxylun armatum and its pharmaceutical value'.
The farmers and local healers from nearby villages like Damro, Millang, Bine and Dalbing shared their experiences in preparation of traditional medicines for treating diseases like diarrhoea, bone fracture, diabetes, malaria, etc.
An anti-arthritis herbal ointment product developed by Jorhat (Assam)-based CSIR-NEIST were distributed among the farmers under the CSIR's 'Aroma Mission'.