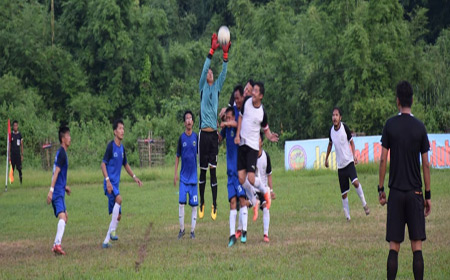 CHIMPU, Aug 18: Defending champions Banggo United FC maintained their unbeaten run in the Itanagar Solung Football Tournament with a 2-1 win over Gabang FC on Sunday.
Banggo United FC, riding on confidence, having won three straight matches and qualified for the quarterfinals, got an early wake-up call when Bakin Tamut of Gabang FC beat the rival's defence and put his team 1-0 up.
After conceding the goal, Banggo United regrouped and won a penalty, which Dodo Pangeng converted to restore the parity.
Banggo United wrapped up the match 2-1 with the winner scored by Alo Darang.
Earlier, Itanagar Solung FC beat Ai Ye Hol FC 2-1.
Alip Tamat (2) and Vijay Tali (1) were the scorers for Itanagar Solung FC and Ai Ye Hol FC, respectively.