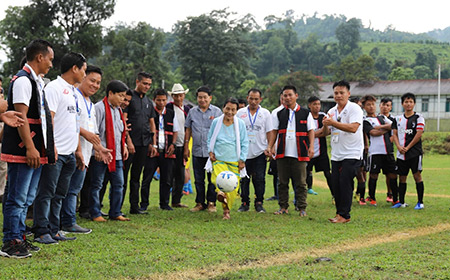 DAMBUK, Aug 18: The 22nd Solung Cup Football Tournament in Lower Dibang Valley district was kicked off here on Sunday by local MLA Gum Tayeng.
Ten teams of different age groups, locally known as 'sirum' in the Adi language, are participating in the tournament.
Addressing the opening ceremony, Tayeng said "the Dambuk Solung football tournament is unique in that it has teams representing different age groups, which is a hallmark of Dambuk and its people."
She said taking active part in sports is good for the health of the mind and the body, and that all sports should be played in the spirit of sportsmanship.
The MLA said there is great opportunity for sportspersons of the state to flourish now as the state government aims to harness the potential of the youths. She added that with Arunachal West MP Kiren Rijiju as the union sports minister, "the doors of opportunity for sportspersons from the state will be made open."
"You must all take advantage of these opportunities," she said.
In the inaugural match, Mibom Sirum beat Bomzir by a huge margin of 7-1.
The tournament is being organised by the Dambuk-based Arsang Sirum. The winning team will receive Rs 50,000 as prize money with a trophy, and the runner-up team will be awarded Rs 30,000.