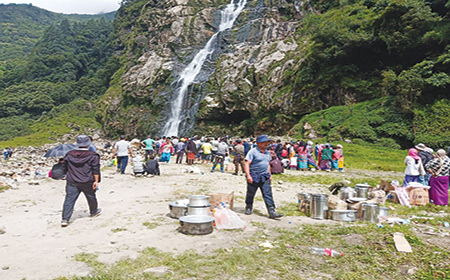 Staff Reporter
JANG, Aug 19: In a tragic incident, a 24-year-old man, identified as Dorjee Norbu, drowned after falling into the Jang waterfalls here in Tawang district on 17 August.
The incident occurred at around 3 pm last Saturday when Norbu, a college graduate and a resident of Jang, had gone to the top of the waterfalls, along with his younger brother and two friends, for a picnic.
Reportedly, Norbu, who was sitting atop a boulder a few metres away from the gushing water, suddenly fell into the waters below.
On receiving news of the incident, a police team arrived within half an hour and started a search operation; but despite much effort by both the police team and locals, they were unable to trace Norbu's body.
Tawang DDMO Lobsang, who is coordinating with the search operation since Saturday, informed this daily that an NDRF team arrived the next day, Sunday, and, along with the police team and locals, took up the task of diverting the course of the waterfalls at the top to search for the body, but they still could not find it.
"Meanwhile, a joint team of the SSB's RR team from Dirang, along with NDRF teams from Itanagar and Tezpur (Assam), and three mountaineers, led by Taka Tamut, have joined the search operation.
"They along with the locals will jointly continue their operation on Tuesday on the banks of the Tawangchu river," the DDMO informed.