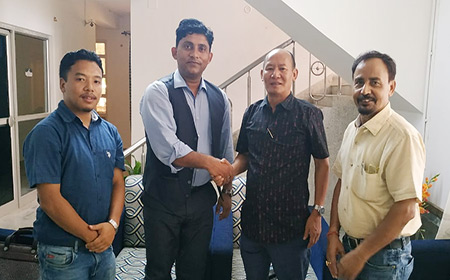 ITANAGAR, Aug 23: Arunachal Pradesh Rural Bank (APRB) Chairman Deepak Kumar Gupta on Thursday assured Palin MLA Balo Raja that the bank would establish a branch in Palin.
The assurance came when Gupta along with a team of officials called on the MLA here and deliberated on the challenges being faced by the rural people in accessing basic financial services like opening of savings accounts, remittance services, and such.
The MLA requested the APRB chairman to establish a branch of the bank in Palin town to provide banking services.
The Arunachal State Rural Livelihood Mission's State Mission Manager (Financial Inclusion) Hillang Tasap, who was also present at the meeting, agreed to facilitate mobilizing SHGs "for the development of women through financial inclusion under the DAY-NRLM."
APRB Marketing Manager Budhin Dutta assured to provide advances in priority sector lending for the overall development of the state.