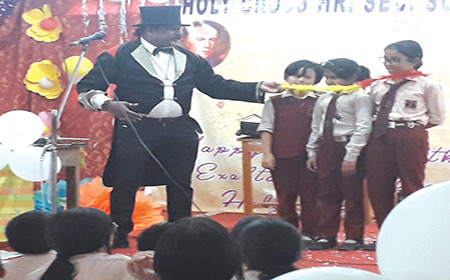 Staff Reporter
ITANAGAR, Sep 14: Students of Holy Cross School here were on Friday captivated by the magic tricks presented by magician HG Ley during his 'Magic 2 Mind' learning workshop.
56-year-old Ley, a neuro-linguistic programmer and magician, has been conducting such workshops at various schools in Arunachal. He has already performed at various schools in Daporijo, and in Itanagar, including Don Bosco School, the polytechnic, Donyi Polo Vidya Bhavan, and Arunachal Valley School. Ley along with his team has been conducting similar workshops in various parts of the country for 35 years now.
Ley said his 'Magic 2 Mind' learning workshop is based on the "neuro-linguistic programme – a psychological technique used for developing human excellence."
"If one can train one's mind to look at things and listen carefully, they can achieve excellence," said Ley, adding that his workshops are more than just magic shows "but are, in fact, a scientific approach that will stimulate the imagination and improve conceptual thinking in children."
Ley uses magic in innovative ways to educate school students and to encourage them to think out of the box.
"Most of the time, students shy away from asking questions of their teachers. They are unaware of the concept of learning; they do not know why they are coming to school. Through this neuro-linguistic programme-based workshop, the children are encouraged to understand the learning process. All they need is inspiration, which should come from within," he said.