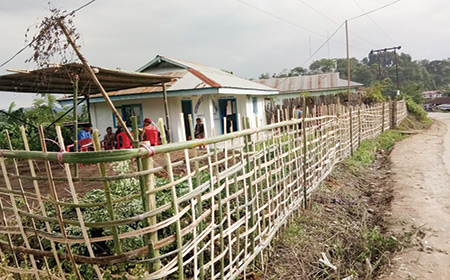 GANGA, Sep 14: The villagers of Ganga on Saturday erected a bamboo fence around the boundary of the veterinary dispensary here. They also erected a temporary shed for treatment of domestic animals.
The decision to erect the fence and construct the temporary animal treatment shed was taken in a meeting held on 7 September, which was attended by the HGB, the GB, the ex-anchal chairperson and other residents of Ganga.
It had also been decided during the meeting to approach the local MLA and the district administration for establishing a permanent RCC boundary wall and setting up other necessary infrastructure at the dispensary.
The meeting also discussed the water supply problem in the dispensary, and decided to sort out the problem at the village level.
Former anchal chairperson Teli Yameng donated the CGI sheets for the shed, while others contributed bamboos and plastic ropes. Papum Pare DVO Dr Dagge Riba and Senior Veterinary Officer Dr Marli Ete were also present.