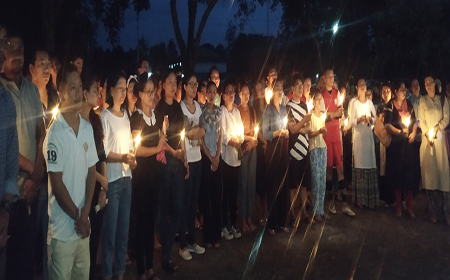 RONO HILLS, Sep 20: The Rajiv Gandhi University (RGU) community on Friday mourned the death of Tage Mamu, a PhD scholar in the university's history department.
Mamu died on Thursday morning due to illness.
The eldest daughter of Bulla Tage, Mamu did her schooling from Oju Mission, graduated from Don Bosco College, Jullang, earned her postgraduate degree in MA (history) from RGU, and her MPhil on the topic 'Patang: A socioeconomic institution of the Apatanis'. She was also the first prefect of RGU's Dibang Halls of Residence.
She was pursuing her doctoral degree on the topic, 'A history of Khamptis of Arunachal Pradesh: 1794 to 1947′ at the time of her demise.
Addressing a condolence meeting organised by the RGU Research Scholars' Forum (RGURSF) at the university's mini-auditorium, Mamu's supervisor and History Department Head, Prof Sarah Hilaly, remembered her as a bright young woman and a good soul.
"Today I lost my first MPhil scholar who was on the verge of submitting her PhD thesis. No words to describe the pain I am going through and that the parents must be going through right now. Scholars' community, family and the university have lost a distinguished scholar," Prof Hilaly said.
RGU Vice Chancellor Prof Saket Kushwaha said "the university has lost a great asset and her death is a collective loss."
In the light of the illness that Mamu had been going through, Prof Kushwaha said the university will be organising a free hepatitis vaccination camp for the students and other residents of RGU.
RGURSF chairman Reken Lollen said, "Mamu's passing leaves a void in the scholars' community and the university. She was loved by all and was a positive influence on all those whose paths she crossed; everyone took a liking to her."
"She was outgoing, extroverted, a wonderful person, always had a smile on her face, and never had a bad thing to say about anyone," said PhD scholar Taba Meth.
A candlelight vigil was organized, and a two-minute silence was observed to pay homage to the departed soul.
Among others, RGU Registrar Tomo Riba, faculty members, employees and students attended the programme.