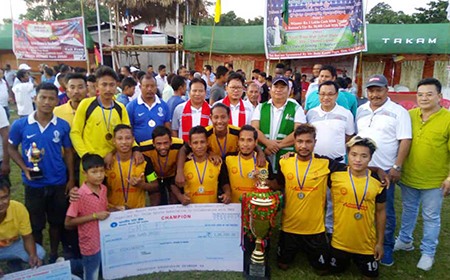 Correspondent
TELAM, Oct 8: GMS Football Club of Gogamukh lifted the first Nyalo Kadu Memorial Football Trophy Tournament, defeating Sripuriya Football Academy of Tinsukia 2-1 in the final match played here in Assam's Dhemaji district on Sunday.
Mustafa (Abdulla Muhammad) and Rakesh Doley scored a goal each in either half for the winning team, while Manuj Chetiya scored the lone goal for the Tinsukia team in the 24th minute of the first half.
Munna Pegu of GMS FC was declared the best player, and Migom Doley of Dekapam was adjudged the 'emerging player'. Kabang Panggeng of East Siang was adjudged the best goalkeeper.
The champion team was given Rs 1 lakh in cash, along with a trophy, while the runner-up team was given Rs 50,000, along with a trophy.
The 'best disciplined' team award went to Bodoland Army of Assam's Odalguri district. The team was awarded Rs 20,000.
The tournament was sponsored by late Nyalo Kadu's family, from Telam village in Arunachal.
Kadu was a social worker who had served as chairman of the Assam-Arunachal Peace Committee, and had played a proactive role in furthering the Adi-Mising relationship.
The tournament was organized by the Telam Sports Association, in collaboration with the Telam unit of the Takam Mising Porin Kebang.
Deva Doley, who had represented Arunachal in the national level Subroto Cup in 1973, and senior citizen of Arunachal, Tojum Likham, spoke on the importance of games and sports, and on maintaining peace and harmony by the people of both the states.