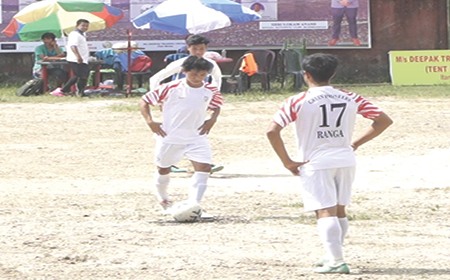 Second and third day match results
CHIMPU, Oct 8: The first match of the second day of the 25th Vishwakarma Football Running Trophy tournament, which was played between East Arrow FC and Hakang Haya FC, ended in a 1-1 draw on Sunday.
In the second match of the day, Champion FC defeated Green Pioneers FC by 3-2, while 5/1 United FC won the match against Ward No 1 Youth FC by 3-0 goals in the third match.
The fourth match, which was played between High Spirit United FC Chimpu and Anya Rayo FC resulted in a 2-2 draw, while the fifth match also resulted in a draw as both Chimpu FC and Pakke-Kesang SC were unable to score a single goal.
On the third day of the tournament, Gohpur SC defeated Damsite United 2-0 in the first match of the day, while Pigey Poro FC beat Yapa Mwda FC 3-1.
The third match was won by Ganga Village FC, which defeated Ward No 7 FC 2-1. Panthers SC beat Hitey Chatey FC by a 4-1 margin in the fourth match, and the last match of the day was won by Manipuri FC, which defeated Notteh Bate FC by 3-0 goals.