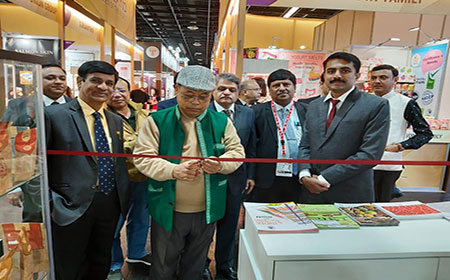 COLOGNE (Germany), Oct 9: State Industries Minister Tumke Bagra participated in the Mega international Food Processing Fair and Technology Show in Cologne, Germany from 5 to 9 October and marketed Arunachal's rich food industry during the business-to-business discussion with Indian delegates and European nations.
Bagra portrayed Arunachal Pradesh as an unexplored food industry destination, adding that all agro-horticulture produces from Arunachal Pradesh are organic in nature.
He further said that under the dynamic leadership of Chief Minister Pema Khandu, the state is gaining positive momentum in farm economy.
"The state's Department of Industries is contemplating to introduce very lucrative industry policy, which would accommodate best to suit basis to lure investors," Bagra emphatically said.
The minister was also honoured by Chairman of Indian delegation organising team Ashwani Pandey, MD of Koelnmesse, Mumbai to inaugurate 125 Indian pavilions on Tuesday.
Altogether, 110 countries have participated in the fair.
Leading food producing industries of India, such as Haldiram, Spice Board of India, Cashew Export Promotion Council, India Trade Promotion Organization, Indian Chamber of Commerce etc. including all European countries participated in the fair.
The fair is considered to be highly visited by serious trade visitors worldwide (OSD Minister).