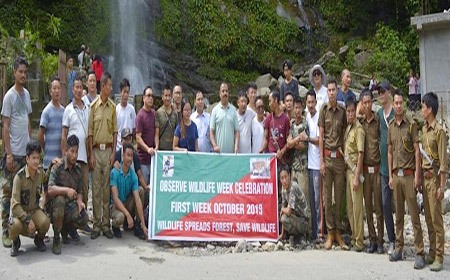 TIPPI, Oct 10: Staffers and officers of the Pakke Tiger Reserve (PTR) in Pakke-Kessang district observed the National Wildlife Week from 1 October with a series of events.
The first day of the celebration, which was conducted at Tippi in West Kameng district, saw the attendance of PCCF Lalram Thanga, the Bhalukpong CO, and heads of departments from Tippi and Bhalukpong.
Interacting with students and the HoDs during the programme, the PCCF reminded them of the importance of conserving the state's rich biodiversity, while PTR Field Director, Tana Tapi, shared with the evaluation team from the NTCA his experience of managing the tiger reserve.
Schoolchildren from Tippi and Bhalukpong participated in poster and signage designing competitions on the theme of conservation, organised by the Tippi wildlife range.
The Bhalukpong CO and the Khellong DFO also spoke.
The PCCF later inaugurated the new range office of the Tippi wildlife range.
As part of the celebration, students, youths and wildlife enthusiasts, along with the staff of the Tippi wildlife range took out a 'conservation rally', led by Tippi RFO Kime Rambia.
Members of the Aka Youth Group carried out a plantation drive in the catchment area of Lumum waterfall, on the outskirt of Bhalukpong, in collaboration with the Tippi wildlife range and the Khellong forest division. The area is a sought-after tourist spot and a heritage site of the Aka community.
The celebration ended with an 'outreach programme on public awareness', along with the screening of a documentary on Pakke, titled Protecting Paradise, at Kimi, a fringe village on the northern boundary of Pakke.