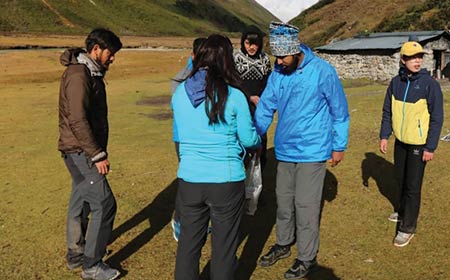 TAWANG, Oct 13: The Arunachal Mountaineering & Adventure Sports Association (AMASA), under the aegis of the Ministry of Tourism, Government of India NE Regional Office Guwahati organised the first 'plogging' trek here along the Bailey trail in West Kameng and Tawang districts.
The 10-day trek-route-cleaning-drive, touching nearly 15000 ft above sea level was organised as a part of the 'Paryatan Parv' to commemorate the 150th birth anniversary of Mahatma Gandhi from 3 to 12 October.
The 12-member team led by the famed mountaineer Dr Anshu Jamsenpa comprised of three members from Ladhak, two from Assam and seven from host state Arunachal Pradesh.
The Bailey trail is a magnificent trek that traces the historic route taken by Lt Colonel FM Bailey and Captain HT Morshed, British officers who surveyed the area during 1911-12.
The trek was initially an ancient trade route that connected Burma, India and Tibet. The surveyed area and the route was used by Sir Henry McMohan, the then defence secretary in the Government of India, to draw his famous McMohan Line in 1914. En-route, there are lovely alpine lakes and breaktaking views of Mt Gorichen (21286 ft) and Mt Kangto (23129 ft).
The team was earlier flagged off by Gen Lama Tsering from Thugchog Gatseling Monastary Bomdila on 3rd October in the presence of AMASA president Tsering Wange.
The team covered seven high altitude camps, namely Chander (8900 ft), Thungri (11900 ft), Changla (13200 ft), Potok (13800 ft), Lurtem (12500 ft), Mago (11500 ft), Tsachu (11000 ft) and finally culminated at Tawang (10200 ft) on 12 October.
All along the Bailey trail, the team collected litter and non-biodegradable waste and disposed-off it properly. They braved heavy showers as they trekked continuously in the high mountain passes touching the 14927 feet Tse La Pass, the highest point of this trek.
When asked to comment about the plogging trek, Anshu said, "this is a new fancy word but it sure inspires trekkers and mountaineers to follow the trend which is good."
She also encouraged everyone to pick up litter while on trek routes and clean the garbage around campsite for a better environment.
AMASA & Ministry of Tourism extended gratitude to Rajesh Thakur SSB Commandant, Pemtan Monpa EAC Thingbu, Dechen Dolker CO Tawang, ITBP Inspector Tripathi and Lungten Tsering Dirkhipa of Thembang, whose timely help and inputs contributed in the success of the first plogging trek organised in the remote Arunachal Himalayas, informed Wange.