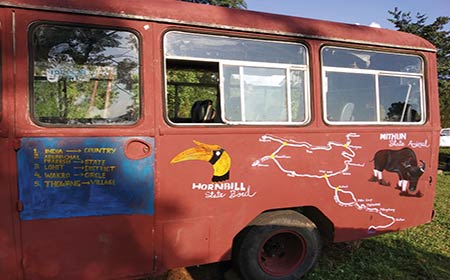 ITANAGAR, Oct 18: In an attempt to solve the problem of shortage of classrooms, as well as to address the matter of low attendance in schools in Lohit district, Deputy Commissioner Prince Dhawan has come up with the unique idea of starting a 'school on bus' programme by acquiring condemned buses lying defunct with various departments in the district and turning them into schools.
As a pilot project, a 'school on bus' is presently located in Thowang village, in Wakro circle, and students of the government primary school (GPS) there are being taught inside the freshly-painted bus.
"Many schools are facing the problem of classroom crunch as well as low attendance. As a pilot project, the bus could be located at only one school. The GPS in interior Thowang was identified for the purpose, and it is functioning
as an island of excellence, with a highly motivated teacher in-charge, Ajitso Ama," the DC said.
He informed that one of Ama's students has already cleared the Jawahar Navodaya Vidyalaya competitive exam.
The teacher in-charge, along with some volunteers from IGG College, Tezu, painted the bus and the school building with educational themes, under the leadership of SP Sunny K Singh.
Improvements were made on the bus, such as painting it with educational themes, putting up pictures of directions to the area, the political map of India, the national animal, etc.
With this intervention, the children have started staying in school even after school hours, and the teachers are tutoring them for the JNV entrance exams, utilizing their extra stay in the 'school on bus'.
The attendance has improved to the extent that even children from nearby villages are coming to the 'school on bus' rather than going to their own neighbourhood schools.
The little students of the Thowang GPS not only spend fruitful time on the bus-classroom but also ensure that the bus remains neat and clean.
"They are elated as they have got something which is infused with fun with learning in an innovative way," Dhawan said.
The district administration is now looking to identify more such buses, in order to turn them into schools to promote fun learning and to improve the students' attendance rate.