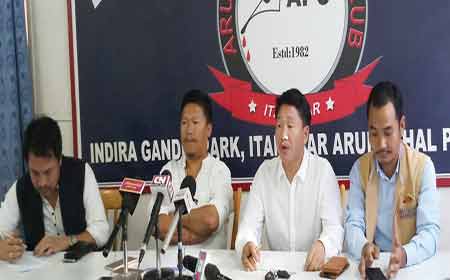 Staff Reporter
ITANAGAR, Nov 5: The All Arunachal Pradesh Students' Union (AAPSU) has given the state government 30 days, starting Tuesday, to complete the exercise of identifying offspring of APST mothers and non-APST fathers who have been availing rights and benefits of APSTs through fraudulent means.
Addressing press persons at the Arunachal Press Club here on Tuesday, AAPSU president Hawa Bagang also urged such offspring to voluntarily surrender their PR/ST certificates.
"The union, along with various community-based organisations (CBO), has decided to take up the issue, keeping in mind the interests of the state's indigenous people. We would like to clearly state that the move is not against anybody and is initiated with the sole view of protecting the interests of the state's indigenous populace," Bagang said.
He said there have been numerous reports of such offspring getting APST certificates through dubious means.
"They are wrongly availing the benefits. Therefore the union has come up with these conditions, failing which it shall launch a democratic action," Bagang said.
Highlighting the need for a stringent 'offspring law', Bagang said the AAPSU has requested the state government to adopt a legislation on the issue in the coming assembly session.
Seeking support from all in implementing its movement, Bagang said the union would also pursue the district administrations regarding government officials who violate the norms and issue PR/ST certificates to such offspring.
"There have been reports that most circle officers violate the norms. Those government officials should be held responsible," he said, and also asked such offspring to voluntarily surrender their PR/ST certificates within 30 days.
On the issue of the four-laning of NH 415, the AAPSU president gave 30 days' time to the state government to initiate dismantling of the structures falling within 30/30 metres of the right of way (RoW).
"Despite the union's submitting a memorandum in this regard to the state government and the capital complex DC, inquiry into the issue is yet to be completed.
"It was decided during our meeting with the building owners that compensation should be paid to them, while structures falling within 30/30 metres of the RoW should be demolished. The state government gave its assurance, but there has been no action since," Bagang said.
He also suggested to the government to merge the directorate of border affairs with the department of border affairs in order to enable the department to address the refugee issue in a better way.