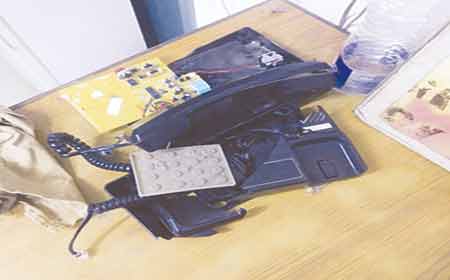 ITANAGAR, Nov 5: The emergency doctors of the RK Mission Hospital (RKMH) here have threatened to boycott emergency services indefinitely from 6 November if the authorities do not act against the AAPSU leader who allegedly damaged a landline phone and a notice board in the hospital.
The AAPSU leader, who has been identified as Tatung Taga, the convener of the union, allegedly damaged the phone and the notice board and threatened the emergency workers after his son could not be admitted in the ward due to paucity of beds.
The doctors said the incident occurred on 3 November. The RKMH authority said a police complaint would be lodged on Wednesday.
The child had reportedly been given the necessary treatment but the mother was reportedly being insistent that the child be admitted in the ward.
After 15 minutes, the father, who identified himself as the AAPSU convener, came to the hospital and allegedly threatened the staff and damaged the phone and the notice board.
After the ruckus, the child was given an isolated bed meant for patients with contagious/infectious diseases.
The secretary of the hospital also had to intervene.
The emergency doctors said they would not be able to work under such threatening situation, and that action has to be initiated against the student leader. They also appealed to the civil society not to support persons who abuse their power and misuse their post.
Meanwhile, Taga denied the allegation of damaging the hospital's property or resorting to any type of violence.
He told this daily that he had taken his four-month-old son earlier in the evening, at around 4 pm, to the hospital, where the doctor prescribed some medicines and sent him home.
However, Taga said, when the child did not recover till late night, his wife took the child to the hospital again, at around 11:30 pm, and sought admission in the hospital. When she was denied admission for their child, Taga arrived later and spoke to the secretary of the hospital.
Taga claimed that he did not have a disagreement with any of the doctors but with the secretary while seeking an alternative to accommodate his son.
"The secretary later came and called in a paediatrician, who noted the serious condition of my son and managed to get him admitted," Taga said, adding that his son is still admitted in the RKMH and his treatment is continuing.