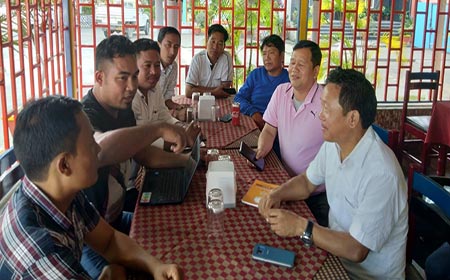 ITANAGAR, Nov 25: Assam-based students' organization, the Takam Mising Porin Kebang (TMPK), has demanded that the Arunachal government immediately resolve the communal tension in Namsai district that erupted after the burning down of 18 houses and a musup (community hall) in New Mabira village by miscreants.
In a joint press statement, the TMPK's Jonai, Tinsukia, Silapathar and Sadiya district committees urged Chief Minister Pema Khandu and Home Minister Bamang Felix to intervene in the matter, so as to restore peace and normalcy in the district.
Expressing solidarity with the affected families, the organisation demanded immediate arrest of all the culprits involved in the incident, and granting of Rs 5 lakhs as compensation to each affected family.
"The AdiSU and the Adi Mising Bane Kebang (AMBK) have already submitted several memorandums demanding the arrest of all the culprits involved in the inhumane act. Unfortunately, all the culprits have not been arrested so far due to biased and inefficient administration," the TMPK claimed.
It said the Arunachal government "must direct the administration to take immediate action against the culprits/individuals involved in the series of incidents."
Miscreants burnt down 18 houses and a musup in two separate incidents, on 12 and 25 October, in New Mabira village, the press statement said.
The organization expressed apprehension that if not it is resolved immediately the issue "might lead to more chaotic communal problems."
It also demanded 'regularization' of the land of the affected families; reconstructing the musup; and a written assurance from the Arunachal government to the effect that such incident would not recur in Namsai.
The TMPK units said their demands should be fulfilled "within 29 November," failing which, they said, they would launch an economic blockade against the Namsai administration.
Meanwhile, a team of the Arunachal Citizens Rights, led by its president Bamang Tago, went on a 'goodwill mission' to Tinsukia (Assam) on Monday and held a meeting with TMPK leaders to sort out the differences and defuse the tension.
Tago informed the student leaders that the Arunachal government has taken the issue very seriously and is making every effort to find an amicable solution to it.
"The Arunachal Indigenous Tribes Forum is also striving hard to bring back normalcy in Namsai," he said.
Impressing upon the TMPK members that "it is a matter of indigenous tribes of Arunachal Pradesh," Tago urged the organisation to not interfere in the internal issue of the state, saying it might otherwise further aggravate the situation, rather than resolving it.
"Moreover, some antisocial elements might also take undue advantage of the situation, which may damage the age-old cordial relationship between the people of the two neighbouring states," Tago added.