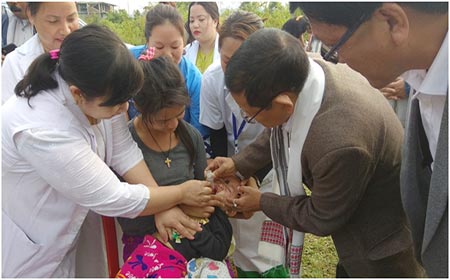 NAHARLAGUN, Dec 2: Health Services Director Dr Moromor Lego launched the state level Intensified Mission Indradhanush 2.0 here on Monday.
Speaking on the occasion, Dr Lego appealed to the parents to come forward and get their children fully immunized to protect them from vaccine preventable diseases.
He emphasized on the need to improve the immunization coverage in the state by reaching out to unreached and motivating them for full immunization.
Informing that the immunization campaign will be conducted for a period of seven days every month for four consecutive months, Dr Lego sought cooperation from all for its success.
NHM Nodal Officer Dr D Padung informed that the mission will mainly focus on unvaccinated children up to 2 years and pregnant women. He informed that the current immunization coverage in the state is around 78 percent, which needs improvement.
Itanagar Capital Complex DMO Dr Mandip Perme encouraged all the health official, ASHAs, nurse and Anganwadi workers to work sincerely to achieve the set target and create general awareness among the public.
The launching programme was attended by SPOs and nodal officers and health staff from Itanagar Capital Complex.
DIPRO adds: Health Minister Alo Libang on Monday launched the IMI 2.0 for Papum Pare district at CHC Doimukh by administering OPV to a child.
Papum Pare DMO Dr Subu Tasso Kampu sought cooperation from all to achieve the target of 90 percent immunization coverage.
In total, 133 children and 36 pregnant women have been identified for immunization in the district, where 25 nurses would be involved in carrying out the immunization drive.
Doimukh MLA Tana Hali Tara, Papum Pare Deputy Commissioner Pige Ligu, WCD Director TP Loyi, Doimukh SDO Mokar Riba, DRCHO Dr Worar Taku, DSO Dr RR Ronya, DANO Dr Tania Raju, MOIC Dr Lobsang Chuki attended the programme.