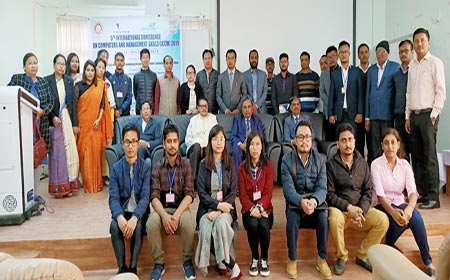 NIRJULI, Dec 15: The two-day 5th International Conference on Computers and Management Skills (ICCM) began at the North Eastern Regional Institute of Science & Technology (NERIST) here on Sunday.
Addressing the participants, among whom was Prof Dhanesh Tiwari of the IIT under the Banaras Hindu University, NERIST Director Prof HS Yadav said the conference would "provide a wide range of scientific and technological knowledge on assimilating computer and management skills to explore our growth, and to undertake global service for human population."
He said the conference would also "boost the in-house researchers in improving their research activities, apart from creating a novel opportunity for collaborative research, after adequate exchange of ideas and thoughts."
The ICCM's general chair, Dr A Dinamani Singh, said the application of computers and management skills in daily life and in research cannot be ignored.
"A research project encounters various constraints which call for proper management of the available resources. Against this backdrop and the changing demands of the society, the current conference is quite relevant," he said.
NERIST Dean (Administration), Prof KN Dewangan, highlighted "the use of computers and technologies in agriculture applications." He presented several case studies on the use of computers for better management of limited resources.
Thirty science, technical and management papers will be presented during the conference, which is being organized by the NERIST in collaboration with the International Association of Academicians, California, USA.