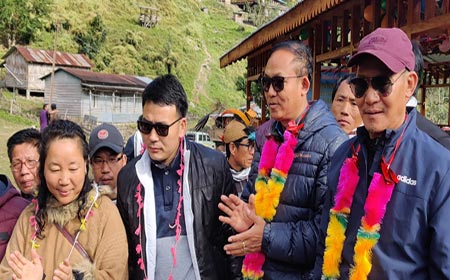 RAIGA, Dec 16: Palin MLA Balo Raja inaugurated the community hall in Raiga village, in Gangte circle of Kra Daadi district, last Friday.
The project was funded under the 2018-19 SIDF.
The MLA also trekked to one of the remotest villages of Palin assembly constituency, Sango Boa, bordering Tali. He interacted with the villagers and assured to provide road connectivity "within two years" of his tenure, and to electrify the village at the earliest possible.
During the visit, PHE&WS AE Tam Tadam created awareness on the Swachh Bharat Mission, and the catchment area water protection bill, which is going to be tabled in the winter session of the assembly.
The MLA was accompanied by RWD SE Toko Otu, Jamin RWD Division EE AS Ramvio Zimick, and Gangte CO (in-charge) Gumku Tako during the visit.