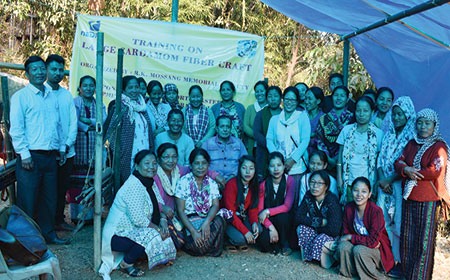 MANMAO, Jan 18: Chief functionaries of the RK Mossang Memorial Society (RKMMS) inaugurated a 10-day training programme on large cardamom fibre craft here in Changlang district on 17 January.
RKMMS secretary Arup Kumar Choudhury urged the trainees, mostly women, to "learn new skills of making fibre craft from large cardamom stems which are thinned out after harvesting cardamom."
He urged them to come up with quality products during the training, "as these products have a very huge demand in national and international markets."
The products manufactured during the training will be bought back by the North Eastern Development Finance Corporation (NEDFi), and the amounts will be directly credited to the trainees' accounts, the RKMMS informed.
Advising the participants to acquire the benefits of the training, former ZPM N Longtu said "implementation of the new skills learned during the training and making quality products" would help them improve their economic status.
RKMMS chairperson Komoli Mossang spoke about the programme, and urged the participants to maintain the training schedule and take part wholeheartedly.
The programme is being sponsored by the NEDFi under its CSR policy.